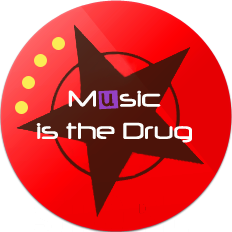 Music Is The Drug, is a 2-hour radio podcast show, consisting of Corey Biggs and guest. Past guest have included. Stefko Kruse, Laylae, 711, Valentina Black, Eli Escobar, The White Brothers,Rui Da Silva, Sonic Future, Teenage Mutants, Orkhan Ronfoller,Reblok, Paris Haze, Mr. Bizz, Andres Gil, Dosem, Filterheadz, Tomy Declerque, Spartaque, Happy Gutenberg, D Unity, Thorsten Hammer,Jorge Jaramillo, Nikolai Marti,Alessio Collina,Kaiser Souzai, Dave Rosario, Gabriel Ben, Tom Novy, Paul Begge, Marco Bailey, Adrian Hour. Leon ,Letkolben, Dave Rosario, Joseph Disco, Paul Begge, Raytek, Positive Merge ,Boot Slap , Sebastian Groth,Luigi Rocca, John Lagora JC Laurent, Chris Gavin, Takuya Kashiwada , Ryota , Mr. Clean, Sonic Future, Reset Robot, Ben Hoo, M.A.N.D.Y., Federico Scavo, Axel Karakasis, Phil da Cunha, Raytek,Yaya Desolat, Jewel Kid, Simone Tavazzi, Sasha Carassi, Tony Dee, Noir, Luis Junior, Coqui Selection, Mihilas Safras, Timo Maas, Chico Abreu, DJ JD, Rosario Galati, Lowkilla Nino Bellemo, and many more.
Corey Biggs, is a self-taught, Music Producer & produces also under also his Alias, "RockStar". Corey Biggs, Produces a wide range of Dance Music in Tech house, Progressive house, techno, deep house, among others. His belief is, music is a feeling within as has not to do with, the ideals of just genre verbal abuse, only love is Professional Rockstars Records llc 3489 Lexington Ave. Suite #27 Mohegan Lake, NY 10547 USA the only belief thru music will be the solution of inner peace for you to find thyself. His spiritual belief in life, as in music will
always be, in him we live and move in being. If is not him that creates the music, it is the master that does within, creating his whole, perfect, loving, powerful, happy and harmonious sound to all in all to Enjoy Forever!
Main Airtime Saturday 22:00 – 24:00 CET


/