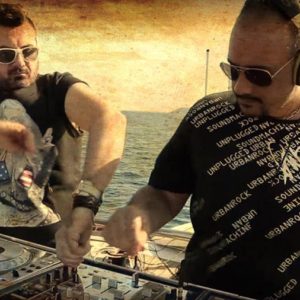 For over 20 years, Veerus & Maxie Devine have been singly providing high quality electronic dance music to clubs from all over the planet. Two solo successful careers as DJ's that finally joined forces in 2007, when Steve Angello discovered the guys. And there they are, touring and "rocking the decks" to the present day achieving year after year a larger global recognition.
With such an impressive pedigree under their belt this Venetian pair set out to blast dance floors with an eclectic and edgy sound crossing in between muscled House and sparkling Techno music. Their skills, both in the studio and in the DJ booth, are always in a continuous evolution. Respect on them, too.
They have signed remixes for an impressive handful of top artists including Fatboy Slim, Purple Disco Machine, Noir, Steve Angello, Todd Terry or Wally Lopez, just to name a few… Their music is continuously finding the support and praises from major DJs such as Carl Cox and of course Fatboy Slim himself. We should add to the list other names from the star system like Sasha, Richie Hawtin, Green Velvet, Coyu, Pan-Pot, Tube & Berger, Sharam or Roger Sanchez.
We need to analyse their strength building killer tracks. Let us add to this list tunes such as "Mouses Ate My Proteins", "Censored", "Cars", "The Sound", "My Train", "Loom", "My Acid" or "My Beat". All of those have amassed thousands of downloads at major online digital music platforms, including 3 tracks within Beatport's overall top 10… at the same time! Veerus & Maxie Devine are tilling their path via Kittbal, OFF, Le Club Records and of course Suara -"the kitties label" from Spain, one of the most charted and ranked labels on Resident Advisor & Beatport- where the duo teamed up in 2013 offering a first awesome hit like "The Sound".
On top of that, they got a nomination by Sasha as Best Producers in 2008, as a testimony of their growing popularity. Then the sky is the limit.
Main Airtime => Random Airtime MON – FRI 08:00 – 09:00 CET